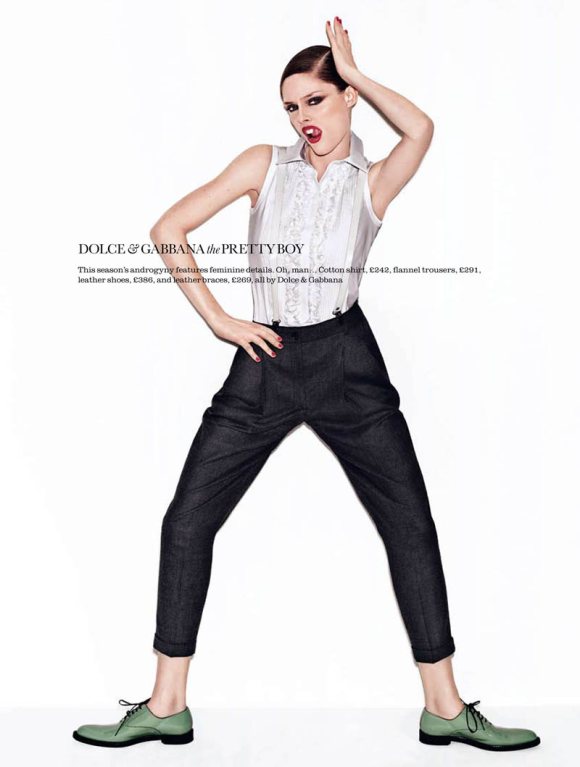 Coca Rocha for ELLE August '11 in Dolce & Gabbana
Bow ties, braces, blazers and brogues.
The catwalks were full of classic masculine touches this season, most prominently at Chanel, D&G and Stella McCartney. The new androgyny isn't about the 'boyfriend look', harsh Balmain style angles, or attempting to emulate the look of a modern day business man. This is a look that dates back to the style of the 1920's, when women first wore trousers, Marlene Dietrich was wearing suits in films and Coco Chanel was making dramatic changes in fashion by rejecting the once essential corset and embracing cropped hair. Karl Lagerfeld has ensured that this style lives on and Chanel's Winter 2012 collection, although featuring plunging necklines (also seen at Michael Kors and Haider Ackermann) showcased heavy, boxy silhouettes- the new take on power dressing.
Chanel Fall/Winter '11/'12
Dolce & Gabbana stuck to classic masculine accessories with feminine touches; black bowler hats, white leather braces and printed cravats.
This is the feature of the trend that people will find most accessible to include into their wardrobes, as any of these items can add an androgynous style to a look. The high street is now including pieces inspired by the trend with an effeminate edge, to keep it appealing to a broader spectrum of customers. ASOS has dedicated a section of their site to the trend, which includes feminine prints on masculine shirts, pussy bows and scalloped edges. Topshop are selling heeled brogues, embellished collars and blazers that scream Stella McCartney. Rather than the high street though, for this trend I would recommended heading for vintage shops. I'm aware that one of my nearest stores, Best Vintage, sells bow ties at £3 and that most stores will sell items that epitomise this look. It is, after all, supposed to give off a classic, nostalgic vibe rather than a modern one.
I personally, am very glad this look has come in this season. Prior to the release of the Autumn/Winter trends, I was looking for pieces I could wear to meetings and interviews that were in fashion, but weren't too 'girly' to prevent me from being taken seriously. I presume I am not the only girl requiring this use of the trend, but for those wanting to incorporate it into their daytime wear, I suggest swapping blazers for knitwear. Vintage and charity shops always have a fantastically diverse range on offer, but as all these items are one-offs, I'd recommend buying the best pieces from the selection now. Knitwear will be huge again this winter and it won't be long before it sells out and the prices for it shoot up.